2021 - St Andrews, Scottland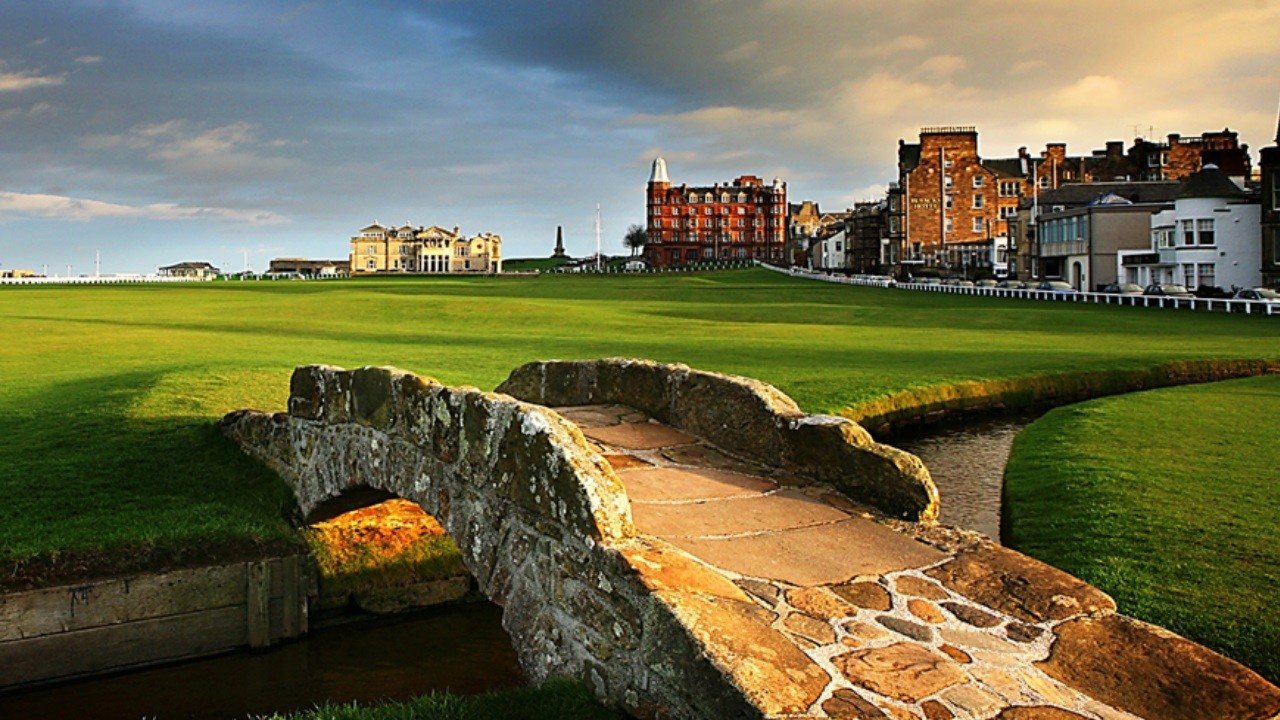 A full report will follow in due course but the headline is that the European Team retained the Hickory Grail trophy with a 15 matches to 13 victory over the American team.
The foursomes on the New Course were tied 3.5 to 3.5. Only in the fourballs on the Old Course could the teams be separated - 4.5 to 2.5 in favor of the Europeans. The final day's singles on the Jubilee Course were also tied 7 matches each.
Our thanks to all those involved but especially Nigel Notley who masterminded the arrangements at St Andrew's, as well as captaining the European team. Thanks also to the many supporters who came along, some of whom joined us for golf at Elie on Monday in some very challenging conditions.
---
DAY 3 - FRIDAY
SINGLES, JUBILEE COURSE
3/2 Ingvar Ritzén VS Ross Hays
Steve Oswald VS John C Miller 2/1
Jenny Hunt VS Matt Dodds 4/2
Jonas Fack VS Marty Joy 3/2
Henrik Peyron VS Peter Flory 2/1
4/3 Mikael Martinsson VS Jerry Esselman
A/S Willie Tanner VS Rick Wolffe A/S
7/5 Olle Dahlgren VS Curt Sampson
2/0 Tony Hunt VS Chris Deinlein
A/S Chris Walker VS Mark WehringA/S
Nigel Notley VS Dave Brown 1/0
2/1 Niel Gascoigne VS Scott McAllister
Jörgen Isberg VS Rick Woeckener 2/1
7/5 Ben Burrows VS Breck Speed
DAY 2 - THURSDAY
FOURBALLS, THE OLD COURSE, PAIRINGS
EU / US
2/1 Neil Gascoigne / Ingvar Ritzén VS Rick Woeckener / Scott McAllister
2/1 Claes Armå / Jonas Fack VS Ross Hays / Marty Joy
A/S Henrik Peyron / Olle Dahlgen VS Peter Flory / Jerry Esselman A/S
A/S Mikael Martinsson / Chris Walker VS Dave Brown / Curt Sampson A/S
2/1 Erik Brändström / Stefan Kjell VS John Crow Miller / Mark Wehring
Jenny Hunt / Tony Hunt VS Breck Speed / Chris Deinlein 2/0
A/S Ben Burrows / Willie Tanner VS Rick Wolffe / Matt Dodds A/S
---
DAY 1 - WEDNESDAY
FOURSOMES, THE NEW COURSE, PAIRINGS
EU / US
A/S Claes Armå / Stefan Kjell VS Peter Flory / John Crow Miller A/S
Jörgen Isberg / Jenny Hunt VS Rick Woeckener / Matt Dodds 1/0
Jonas Fack / Mikael Martinsson VS Ross Hayes / Jerry Esselman 2/1
4/2 Neil Gascoigne / Steve Oswald VS Marty Joy / Dave Brown
2/1 Ben Burrows / Carolyn Kirk VS Chris Deinlein / Rick Wolffe
Erik Brändström / Ian Hislop VS Mark Wehring / Breck Speed 6/5
1/0 Ingvar Ritzén / Nigel Notley VS Scott McAllister / Curt Sampson