2003 - St Andrew Golf Club, New York
Hickory Grail, St Andrews Golf Club, New York State, USA arranged by David Kirkwood
Europe beat the USA by 10 to 8 matches to win the Hickory Grail for the first time... and on foreign soil too!
Things were not looking good for the visitors after losing four of the six morning foursomes, but some adept team placements in the afternoon, which secured five out of the first five singles, gave us a chance. Excitement mounted for the spectators with some very tight games in the later stages. Man of the match was auctioneer John Mullock, who kept his nerve playing the last hole against Randy Jensen to win, and the Hickory Grail trophy was ours!
Many thanks to our American hosts, especially Brian Siplo, Rick Wolffe, John Crow Miller and Larry Stewart (Sleepy Hollow) for all their hard work in planning and organising the match and ancillary events. The twenty six BGCS members who made the trip thoroughly enjoyed themselves.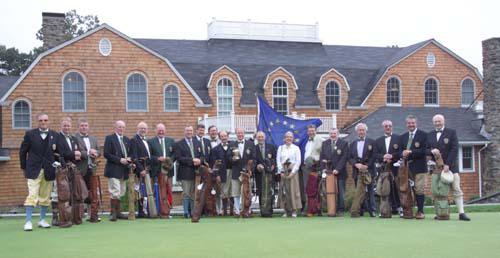 Victorious European Team
L to R John Hanna (Malone), Scott Patrick (Glen, North Berwick), John Sherwood (Canterbury), David Kirkwood (Gullane, Team Captain), John Mullock (Church Stretton), Stuart Gibbs (Oxhill/Brailes), Nigel Notley (Porters Park) Barry Kerr (Anstruther and St Andrews), Philip Truett (Walton Heath), David Hamilton (Kilmacolm), Peter Heath (Edgbaston, BGCS Captain) Chris Homer (Kendal), Gillian Kirkwood (Gullane), John Pearson (York), Alan Jackson (Gloucester), Tony Norcott (Meriden), Hamish Ewan (Nairn), Bob Strachan (Duff House Royal), John Still (Edinburgh/Taymouth Castle)
Valiant United States Team
Rick Wolffe, Mike Beckerich, Tad Moore, Randy Jensen, Chuck McMullin, Ralph Livingston, Mike Gentile, Brian Siplo (US Captain), Win Padgett, Fred Mueller, Roger Hill. William Farmer, John Crow Miller
USA v Europe match results

Foursomes (USA names first)
John Crow Miller and Mike Beckerich lost to Bob Strachan and Peter Heath
William Farmer and Win Padgett lost to Nigel Notley and Tony Norcott
Roger Hill and Tad Moore beat Scott Patrick and Alan Jackson
Brian Siplo and Rick Wolffe beat John Mullock and John Sherwood
Fred Mueller and Chuck McMullin beat Barry Kerr and Gillian Kirkwood
Randy Jensen and Ralph Livingston beat Hamish Ewan and Chris Homer

USA 4 Europe 2
Singles
Rick Wolffe lost to Nigel Notley
Roger Hill lost to Chris Homer
John Crow Miller lost to John Sherwood
Mike Gentile lost to John Hanna
Brian Siplo lost to Scott Patrick
Tad Moore beat Stuart Gibbs
William Farmer beat John Still
Fred Mueller beat Tony Norcott
Chuck McMullin lost to Philip Truett
Win Padgett lost to John Pearson
Randy Jensen lost to John Mullock 1 hole
Ralph Livingston beat Bob Strachan

USA 4 Europe 8
Match result Europe 10 USA 8