2011 - Dormie Club, Pinehurst, North Carolina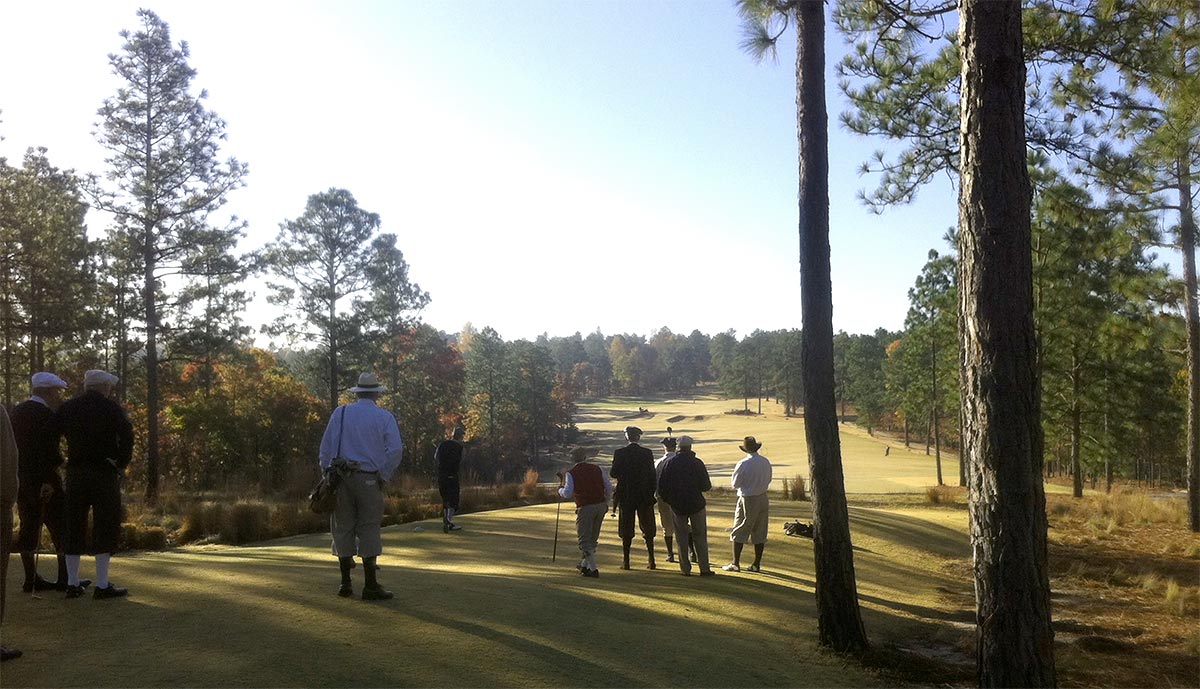 7th Bi-annual Grail Match USA v Europe was held at the Dormie Club, Pinehurst, North Carolina USA, on 8th and 9th November 2011
The seventeen-strong European Team with a small band of supporters arrived at Pinehurst with the "Grail" trophy, which was wrested from our BGCS American friends in Falsterbo, Sweden in 2009. Home advantage was evident when we arrived at the Dormie club to find greens registering 12 on the stimp and firm. Nevertheless we made a fight of it on a very good golf course designed by Crenshaw and Coore and co-owned by Bobby Hanson, one of the great golf collectors, who kindly provided courtesy of the course and facilities - Thank you Bobby on behalf of all of us in the BGCS.
Society Captain, Richard Atherton, had the dubious honour of playing in the opening four ball with Scottish Hickory scratch winner Jorgen Isberg, going down 2&1 to top professional Fred Muller and my good friend John Miller. This set the tone for the four balls and the foursomes leaving Europe with a mountain to climb in the singles. Europe did win the singles 5.5 to 6.5 but USA took the trophy by 14 points to 10.
The famous Holly Inn was the venue for the Convivial dinner. USA Captain Bill Farmer received the "Grail" from David Kirkwood and the Society of Hickory Golfers awarded the Ralph Livingstone Medal to Nigel Notley for services to hickory golf.
Europe now look forward to London 2013 and hopefully will regain the trophy left in Pinehurst.
Match Results

Fourballs USA 4 Europe 2 (USA names first)
Fred Muler and John Crow Miller beat Jorgen Isberg and Richard Atherton
Rick Wolffe and Michael Beckerich lost to William Tanner and Martyn Pryce
Curt Sampson and Jeremy Moe beat John Still and Ian Hislop
Roger Hill and Mike Stevens beat Nigel Notley and Jean-Louis Panigel
Breck Speed and Chris Deinlein lost to Erik Brandstrom and Czeslaw Cruk
Bill Farmer and Mark Wehring beat Jonas Fack and Claes Kvist
Foursomes USA 4.5 Europe 1.5
Wehring and Moe beat Kvist and Fack
Jay Harris and Robert Ahlschwede beat Philip Truett and Clive Mitchell
Ross Hays and Chuck McMullin beat Hislop and Antti Paatola
Farmer and Sampson halved with Notley and David Kirkwood
Stevens and Speed beat Isberg and Ron Beatt
Deinlein and Miller lost to Brandstrom and Tanner
Singles USA 5.5 Europe 6.5
Ahlschede lost to Isberg
Sampson beat Fack
Muller beat Notley
McMullin lost to Tanner
Stevens beat Hislop
Hays beat Kirkwood
Wolffe lost to Kvist
Beckerich lost to Brandstrom
Wehring beat Truett
Moe halved with Still
Speed lost to Mitchell
Hill lost to Kruck
Overall result US 14 Europe 10