2000 - Kilspindie Golf Club, Scotland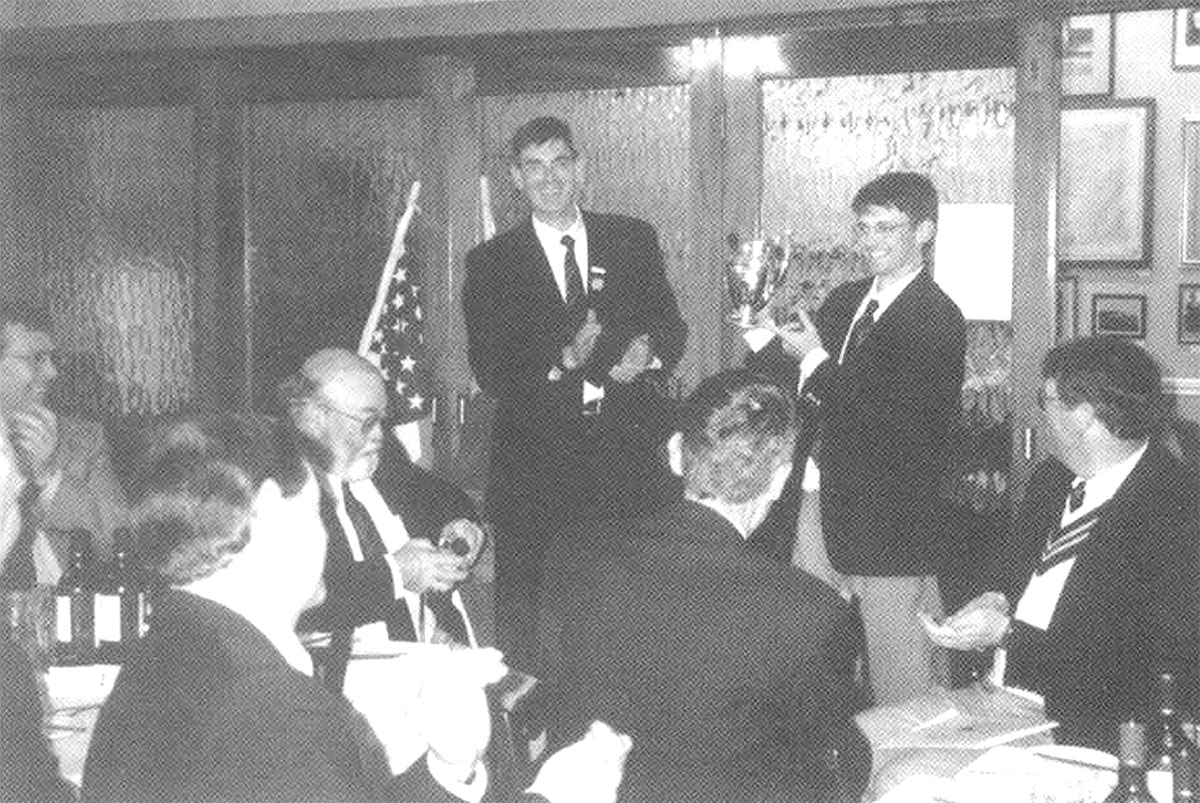 Kilspindie, East Lothian, Scotland
The Scottish Hickory Championship has always attracted GCS pilgrims from USA, and this year, from them, came the challange to a separate 'Ryder Cup' match-play event on the day before. We could make it a European team when Pehr Thermaenius managed to come over from Sweden to join in. Kilspindie Links, near Gullane, was a natural venue, after the successful Scotland/England match in the previous year and the enthusiasm of the local club to host such metting. John Crow Miller of the visitors' team donated a treasured family silver cup as the trophy. Various names, flippant and otherwise, were bandied about, and permission nearly, but finally not obtaind from this tough lawyers, for the use of Payne Stewart's name. Instead 'Hickory Grail' emerged.
The day was favourable, the weather fine and the club made us welcome, the members tolerating the media circus on the first tee and our take-over of their small elegant Victorian first clubshouse. No Ryder Cup is complete without some preliminary jousting and a European team member quietly pointed out that some of the US hickory clubs, contrary to the 'pre-1930 rule', were instead replicas made by himself, but that this would be overlooked – this year,
The play was as keen as the two captains Ralph Livingstone and David Hamilton had hoped, and the macth kept to a dream script, settled by the last stroke, a six-footer holed by Captain Livingstone using his Tom Morris long-nose putter.
Food and drink were partaken of, toasts and speeches were made, and as a surprise, newly minted elegant Kirkwood medals to mark the event were presented by the visitors to all involved, and the success of the new event agreed, Meanwhike, it seemed that the message on the power and value of the older clubs had not got through to the East Lothian criminal classes, since during the dinner the thieves visiting the car park took only a modern set and left the hickories.
We felt welcome at Kilspindie and the club have invited us back next year, extending the format to include morning singels matches. By then Kilspindie will inherit the new adjacent course and the club will be a major force in the local championship play, as well as meeting our traditional needs. To this will be added, on the previous day, a fun game at Bruntsfield Links against the local Edinburgh Short Hole specialists. In all, a Heritage Week is emerging, fixing on the last week in May and integrating with the success of John Rigg and Archie Baird's Scottish Hickory Championship.
This year's European Hickory Grail team was assembled informally, but as next year's meeting is an official event, the team will be assembeled from the BGS order of merit from now on – plus the usual wild cards.
Be there and bring the Grail back!
Result US 6 1/2 - EU 5 1/2
Report from David Hamilton