2015 - Baltusrol, New Jersey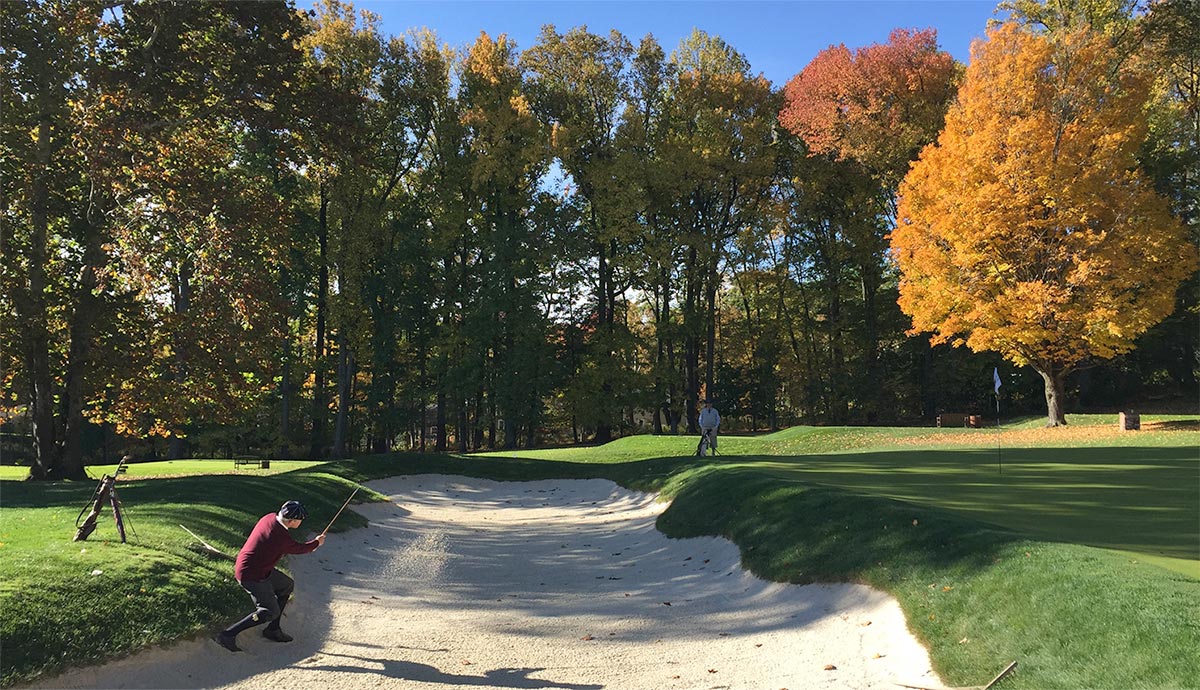 Springfield, New Jersey, USA. October 27, 2015
The Ninth Hickory Grail was conducted at Baltusrol Golf Club's Upper Course in brilliant sunshine over two glorious fall days. The United States Hickory Golf Team emerged victorious against the European Hickory Golf Team, 16-8. USA Captain Mark Wehring (Texas) led his team to a solid victory over golfing ground that is well known as one of America's sternest tests. Fairways were in perfect condition against a full showing of the best in New England's fall colors. "The treachery of Baltusrol's bluegrass rough and lightning-quick greens certainly affected the outcome. The Americans exhibited great skill and we shall all spectate in awe and appreciation as the professionals attempt to navigate Baltusrol in 2016 on the occasion of the 2016 PGA Championship," said European Team Captain Nigel Notley (England). "The US Team came storming out of the gates on the first day and established a commanding lead, but I am very proud Team Europe fought back to win the second day's singles.
It was a well-deserved victory for our hosts!" Captain Wehring confirmed the success of the competition: "The true winner is hickory golf. Our historical contests engender a sweet spirit of respectful competition among those who join in the quest. I am happy to see both sides emerge with plus-handicaps in friendships that will last a lifetime."
Highlights of this year's Hickory Grail included a beautiful Flag Raising ceremony framed by Baltusrol's historic clubhouse, featuring welcoming speeches by Mike Davis, Executive Director of the United States Golf Association, and Baltusrol's Tony Cicatiello. BGCS Representatives attending these matches included England's Philip Truett, who serves as the society's President, and Scotland's Alan Henderson, who is the BGCS Captain. Both men also played in the matches and presided with the team captains over a Convivial Dinner at Baltusrol Golf Club, which celebrated the traditional closing of the Grail matches.
The Convivial Dinner was highlighted by the presentation of the Ralph Livingston Medal, which was award to Scotland's David Kirkwood for his excellence in spirit and service to the cause of authentic hickory golf. The 2015 Hickory Grail was preceded by an international putting competition at Golf House in Far Hills, New Jersey, where the European Team emerged victorious over the USA on the USGA's Pyne Putting Course.
"It is such an honor to represent my country as a part of the United States' side," said Rick Wolffe (New Jersey). "I am grateful to Baltusrol Golf Club for its supreme effort in hosting our competition - just another successful 'Major Championship' in Springfield!"